Our Experience + Knowledge = A quick
solution for all your Refrigeration concerns.
If you are experiencing any problems with your cabinets please follow the following steps.
Firstly check that the power is connected to the equipment, it is very common for power to be accidently knocked without knowing.
Check that all fans are running.
Take a note of the temperature.
Check other Refrigeration cabinets running on the same system.
Check product temperature.
A common problem is that when cabinets are going on Defrost they tend to run a little warmer, but this is just part of the defrost cycle.
If your cabinet is still not running correctly, please contact Trent Refrigeration on 03 9457 5880, where we will be more than happy to assist you with any concerns that you have.
All Trent Refrigeration's Cabinets are fitted on completion with a Trent ID Badge.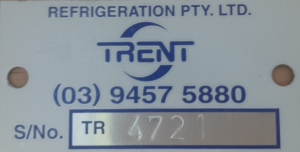 Providing Office staff with this TR Number will assist us in giving you the best possible solution. This ID badge is commonly located on a panel when opening the left hand side door, or on the left end of the cabinet. If you are unable to locate this number, please give our office a call and we can assist you in locating it.