Over 25 Years of know-how & Expertise
Trent Refrigeration has been producing quality refrigeration solutions for over 25 years. Our innovative designs and willingness to work with your plans and architects, ensure you are fully satisfied and your refrigeration needs are well serviced and planned.
The quality of our product is the most important aspect in our business. Trent Refrigeration is a wholly owned Australian Business operating successfully under its managing director Terry Martin. Terry is fully qualified and has many years of experience to ensure the correct refrigeration requirements for your business.
The company was started in 1987 by Terry Martin and Kent Goodwin, after the closure of Fisher Brothers. Starting from a two man business Trent has grown to become one of the foremost leaders in the Commercial Refrigeration Industry.
After 25 years Trent now employs approximately 40 staff and has designed and custom manufactured commercial refrigeration cabinets and displays all around the world. The majority of our staff have been involved for over 15 years.
This wealth of knowledge is a contributing factor in your satisfaction with the finished product.
Within the last 15 years there has been no major development in the country that Trent Refrigeration has not been involved in.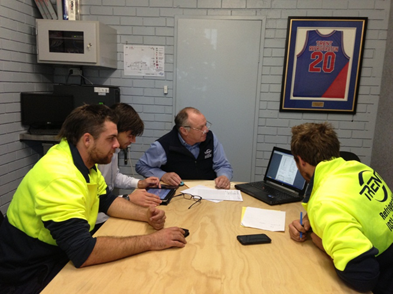 ( Terry with his three sons, who all work at Trent Refrigeration )
Quick Facts
Terry Martin has been a leader in the Refrigeration Industry for over 37 years.
Stainless steel, not only in fridges is one of our specialities.
There is over 150 years of experience within the core group at Trent Refrigeration.
Did you know that there are 8 family members working at Trent to ensure everything runs smoothly.